This is a compilation of documents which contain IP keywords 1995-2002 . For free access to prior and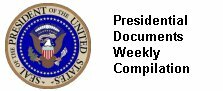 subsequent documents, go to the online edition of the Weekly Compilation of Presidential Documents, which is currently under development as a pilot project jointly authorized by the publisher, the National Archives and Records Administration's Office of the Federal Register (OFR) and the Government Printing Office (GPO). Its purpose is to provide the public with enhanced access to Presidential documents.
Please select a document.