If it has a unique appearance think design patent. This is the iPhone graphical user interface, US Design Patent No. D687,842.

-------------------

A Brief History of Design Patents

Thanks to our good friend and UNH Law alum Gene Quinn for this brief history of design patents. (Source)

Although the first Patent Act was enacted in 1790, it was not until some 52 years later that the US patent laws were modified to allow for the patenting of ornamental designs. In 1842 a statute was passed to provide for, among other things, the grant of patents for any new and original: (1) design for a manufacture; (2) design for printing on fabrics; (3) bust or statue; (4) impression to be place on an article of manufacture; or (5) shape or configuration of any article of manufacture.
Subsequently, in 1902, the design patent statute was amended to define the allowable subject matter simply as "any new, original, and ornamental design for an article of manufacture.'' This language mimicked the 1887 modifications to the Patent Act relative to infringement, and still closely represents the current law regarding patentability of designs.
The first design patent that was issued in the United States was issued to George Bruce on November 9, 1842. Only thirteen design patents were issued in the first year of eligibility.
So how many drawings were present in the first design patent issued? OK, this is a trick question. The surprising answer is that there were no drawings at all, which is at least a little bizarre based on practice today. But Mr. Bruce's design patent covered a new typeface, which could be, and was, described in words rather than by claiming the ornamental design as shown, which would be what you would do today.
Another interesting aspect of this first design patent is that it contained a written description, which explained the apparent lack of novelty. Bruce explained:
I do not pretend that I am the first who have cast the Types called Script, nor the first who have cast them of the size called Double Small Pica, nor to originality in the outlines of any of the types for which I now ask a patent, nor do I wish to prevent other founders from cutting and casting similar and better articles. But these Types are different from all others in their size, proportions, details and impressive effects, combining peculiarities by which they are distinguishable from all others, and these as a whole I claim to be mine…
Today, a description in a design patent application is not necessary, although not strictly prohibited. Furthermore, the rights obtained in a design patent today are entirely tied to the drawings. Indeed, the USPTO Design Patent Application Filing Guide explains: "The drawing disclosure is the most important element of the application." That is why high quality, exceptionally detailed drawings should always be filed in a design patent application.
A perspective view from U.S. Design Patent No. D576,513.
The drawings in a design patent application should contain a sufficient number of views to disclose the complete appearance of the design claimed. This generally requires at least six separate views (or angles), which should include drawings of the front, back, top, bottom, left and right. These six views should be considered essential unless one or more would be identical. For example, with a typical golf ball it would be identical from every angle so only one view would be required. A perspective view, which shows the invention in context showing more than one side or angle at a time are suggested by the Patent Office, but not required. A perspective view is shown to the right.
Generally speaking design patents are viewed as weaker than utility patents, but that is not really the entire story. A design patent protects only the way something looks, not the way it functions. That is why it is frequently said that design patents are weaker than utility patents. It is better, however, to say that you need to be fully well aware of the protection you are going to obtain with a design patent. If you need protection for the way your invention operates then a design patent is not the right form of protection. But for many products what makes them desirable is the way they appear, not necessarily the way they function. In that situation a design patent is certainly appropriate. It is also appropriate to file a design patent that seeks protection on the way something looks simultaneously with filing a utility patent application (i.e., provisional or non-provisional patent application) that seeks to ultimately protect functionality. Further, obtaining a number of design patents on various alternative designs can and does provide a nice portfolio.
Design patents fell out of favor in the past because they were promoted by non-attorney services who did not explain the difference between a design patent and a utility patent. Inventors were funneled toward a design patent in virtually all instances even when what they needed was a utility patent application. Thus, design patents received a bad name. That was never appropriate because it wasn't any problem with design patents, but rather people expecting to get more from a design patent than the rights granted would reasonably allow.
In 2008 the Federal Circuit changed the design patent infringement test (see here and here) making it one about substantial similarity, which made it easier (relatively speaking) to prove design patent infringement. Cases since have shown mixed results, but the law is certainly more favorable to the design patent owner and the uncertainty is actually a benefit for the patent owner because infringers cannot merely ignore design rights. Further, a design patent may give you all you need to get infringing products removed from online marketplaces such as eBay or Amazon.com. Look for a forthcoming article on that topic specifically.
Design patents are definitely growing in popularity, as they should be. The chart below shows design patent activity at the United States Patent & Trademark Office from 1975 to 2013. The only question I have is why aren't even more design patent applications be filed? Design patents are relatively cheap to obtain (at least compared to utility patent rights), they are easy to obtain and they last for 14 years from issue without the need to make additional maintenance fee payments. The number of design patent applications filed, while on the rise, should be much higher.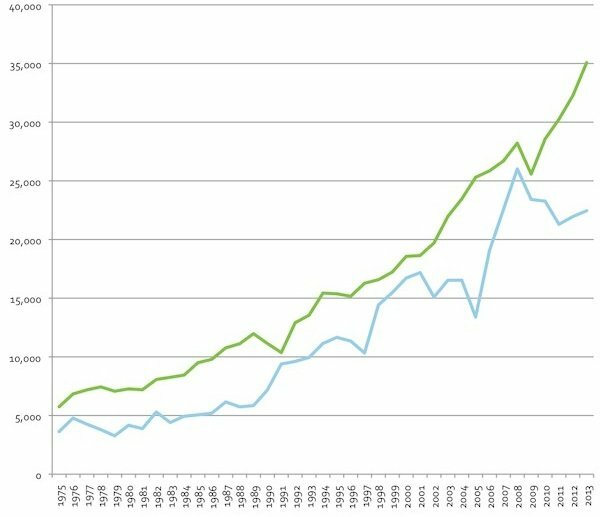 The Design Patents Act and its Amendments (PDFs)
Interpretive Articles Discussing the History of the Act (PDFs)