Trademark Trial and Appeal Board
Patent and Trademark Office (P.T.O.)
*1 IN RE VILLEROY & BOCH S.A.R.L.
Serial Nos. 407,897 & 407,931
December 1, 1987
Hearing: May 12, 1987
David S. Fishman for applicant
Ellen M. Devine
Trademark Examining Attorney
Law Office 2
(John C. Demos, Managing Attorney)
Before Sams, Simms and Krugman
Members
Member
 Villeroy & Boch S.a.r.l., a corporation of Luxembourg, has appealed from the final refusal of the Trademark Examining Attorney to register the designs shown below for tableware, namely, plates, saucers, cups, bowls, vases, pots and jugs. [FN1]

These designs of vines with morning glories and leaves are placed on applicant's tableware, as shown below.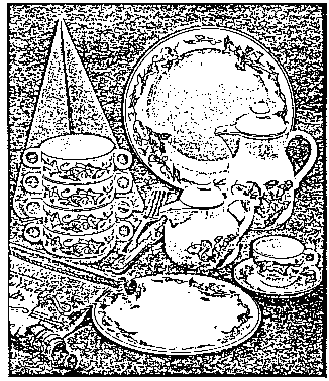 The Examining Attorney has refused registration on the ground that the matter presented for registration serves only an ornamental function and not the trademark function of indicating origin. Registration was therefore refused under Section 1 of the Trademark Act, 15 USC § 1051, the preamble of Section 2, 15 USC § 1052, and the definitional section, Section 45, 15 USC § 1127, containing the definition of a trademark.
 We affirm.
 While the Examining Attorney concedes that an ornamental design used on a product can also function as a trademark (In re Paramount Pictures Corporation, 213 USPQ 1111, 1113 (TTAB 1982)), she maintains that, in view of the common practice in the trade to use floral patterns on tableware, the designs sought to be registered by applicant would not be viewed as trademarks but simply as another floral pattern. In her view, the ornamental function so dominates that applicant is under a heavy burden to show trademark significance. The Examining Attorney maintains that applicant's design is neither inherently distinctive nor has acquired trademark significance. More particularly, she argues:
   While clearly a mark can serve an ornamental function and a trademark function, the more ornamental the mark, the greater the degree of proof of acquired distinctiveness ... [I]t is a very common practice in the industry to ornament tableware with floral patterns. In that this is such a common practice, the likelihood that one floral pattern will stand out over others appears to be slight. Your burden of proof in this regard is great. (Action dated Nov. 4, 1985, 2)
 While conceding that some china patterns are not trademarks (applicant's reply brief, 5), it is applicant's position that, as a result of the success of its "Palermo" china (by which this pattern is called), its design has become recognized and is associated with applicant.
   When a china pattern or design is initially marketed, it is probably not functioning as a trademark ... It is Applicant's position that while its floral design may have initially had a primarily aesthetic appeal, over the course of time and through its increasing and significant popularity, it began to act primarily as a trademark in identifying the source of the tableware as Villeroy & Boch.
    *2 (Applicant's reply brief, 8).
In other words, applicant argues that while its tableware has an attractive and pleasing appearance, the ornamental or decorative qualities are now secondary to the primary origin-indicating significance of the floral pattern.
This record establishes (as exemplified below), and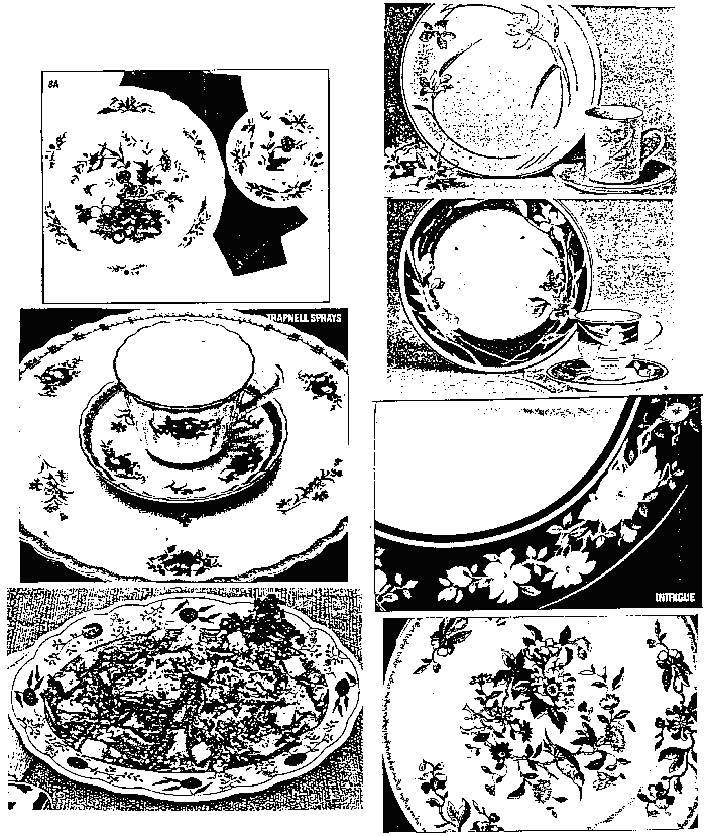 applicant concedes, that it is a common practice to decorate tableware with floral patterns. This practice has been recognized in decisions of this Board and federal courts. See Pagliero v. Wallace China Co., Ltd., 198 F.2d 339, 95 USPQ 45 (9th Cir.1952) and Anchor Hocking Glass Corporation v. Corning Glass Works, 162 USPQ 288, 292 (TTAB 1969) (referring to the "multiplicity of stylized floral designs on tableware, cookware, and the like ..."). Indeed, a distributor of applicant's goods acknowledges that there are a large number of tableware patterns of floral designs. The question presented is, therefore, whether applicant's floral design, as contended by applicant, has come to function primarily as a trademark distinguishing applicant's goods from the goods of others.
 To demonstrate trademark significance, applicant has submitted declarations of one of its directors, the chairman of the board of a distributor of commercial china and related goods to the food service industry, and a manager who has served in hotel food and beverage divisions of several large hotel restaurants. These declarations demonstrate that the Palermo morning glory pattern was introduced into this country in 1979 by applicant, a maker of commercial fine china and tableware for the food service industry, and has been sold to a number of "upscale" hotel restaurants and gourmet restaurants in this country. Prominently featured at trade shows, the main promotional vehicle in the industry, and consuming a large percentage of applicant's advertising budget, this line of china was applicant's best selling hotel-weight pattern in 1984 with sales exceeding $400,000. The declarants state that applicant's floral design is recognized both in the trade and by the commercial purchasing public as identifying and distinguishing applicant's goods. In addition, applicant points to a number of photographs of its china appearing in advertisements and articles in various magazines featuring restaurant reviews as evidence that applicant's "distinctive design trademark" on its tableware is recognized by those in the relevant trade as indicating source or origin in applicant.
   In all instances, the high quality food being depicted in the advertisements and editorials are using the high quality and excellent reputation of V & B's Palermo tableware to accent their food stuff and to enhance the reputation of the restaurant being showcased in the magazine article. This is being accomplished in many instances without mentioning either the name "Villeroy & Boch" or the trademark "Palermo", but only by showing the tableware with the distinctive design mark ...
    *3 (Supplemental declaration of Mario Capelli, 4-5).
 After review of applicant's evidence, we cannot agree that any of those exhibits demonstrates promotion of its alleged mark. Rather, applicant's tableware shown in the magazine articles serves only to enhance the appeal of the food offered by the various restaurants. There is no mention in those articles of applicant's tableware or any evidence that its floral pattern is a trademark. Photographs of applicant's china in Restaurant and Hotel Design magazine likewise simply show tableware in a restaurant setting and in no way promote the pattern design here sought to be registered as a trademark. Moreover, there is nothing in applicant's own promotional literature or advertisements which refers to or promotes recognition of its pattern design as a trademark and we do not believe that ultimate purchasers or users of the tableware view the decorative pattern as other than another, albeit attractive, floral pattern. [FN2] Finally, the advertising and promotional figures that applicant has submitted fail to distinguish between its various floral patterns, nor do they demonstrate promotion of the pattern as a trademark.
 To the contrary, in the specimens of record, a promotional piece featuring applicant's Palermo china, applicant lauds the attractiveness of its tableware:
   Developed primarily for inns and restaurants with an Italian character, this colorful tableware will help you accentuate the cheerful Southern air of your house.
In an article written by applicant for Special Events magazine, March-April 1985, applicant emphasizes the increasing importance of displaying food on attractive tableware.
   Colors especially can make a statement. Colorful china patterns should be fully incorporated in the event planner's repertoire ...
   Allen C. Widmark, director of the commercial division at H. Wittur and Co., a wholesaler and importer of china, agreed. "People are looking for something other than the white, clunky china of the past," he said. "They want different styles with different decorations ...
   Other caterers and managers of rental houses interviewed also agreed that there is a trend toward use of china patterns that are colorful, fashion-oriented, and which have an opulent styling influenced by European designs ...
   Unquestionably, china is important in establishing the mood of a special event. Tabletop designs should be analyzed so that they will make the desired statement, add to food presentation and complement the decor.
 Because applicant's morning glory floral pattern is concededly not an inherently distinctive mark and has not been shown to be other than another decorative pattern without trademark significance, the refusal of registration is affirmed. [FN3] See In re The Original Red Plate Co., 223 USPQ 836 (TTAB 1984). Compare Anchor Hocking Glass Corp. v. Corning Glass Works, supra, involving a blue cornflower design on kitchen ware.
J. D. Sams
R. L. Simms
G. D. Krugman
Members, Trademark Trial and Appeal Board
FN1. Serial Nos. 407,897 and 407,931, filed January 3, 1983, claiming use in commerce with the United States since April 30, 1979.
FN2. While the declaration of the hotel restaurant manager states that he purchases applicant's tableware because he believes restaurant patrons recognize the "distinctive design mark" of applicant, which has a reputation for high quality china and tableware, this is not persuasive evidence that they do. There is no direct evidence (as, for example, affidavits from those restaurant customers) that they recognize the pattern as a trademark.
FN3. In her appeal brief, the Examining Attorney for the first time stated that applicant's floral pattern was not capable of gaining trademark significance since it is "merely functional," citing the Pagliero case. As applicant has pointed out in its reply brief, however, the doctrine of aesthetic functionality espoused in that case has been criticized and rejected in a number of cases. See, for example, Sno-Wizard Manufacturing, Inc. v. Eisemann Products Co., 791 F.2d 423, 230 USPQ 118, 119 n. 3 (5th Cir.1986), LeSportsac, Inc. v. K Mart Corp., 754 F.2d 71, 225 USPQ 654 (2d Cir.1985) and Keene Corp. v. Paraflex Industries, 653 F.2d 822, 211 USPQ 201, 202-04 (3rd Cir.1981). Even the Ninth Circuit has limited the Pagliero doctrine in Vuitton et Fils S.A. v. V.J. Young Enterprises, 644 F.2d 769, 773-76, 210 USPQ 351, 354-57 (9th Cir.1981).