Trademark Trial and Appeal Board
Patent and Trademark Office (P.T.O.)
*1 U.S. WEST, INC.
v.
BELLSOUTH CORPORATION
November 7, 1990
Hearing: July 12, 1990
 Opposition No. 77,413 to application Serial No. 520,226, filed February 1, 1985.
For U.S. West, Inc.
Melvin G. Goldberg and KiSong Kim Lang
for BellSouth Corporation
Before Sams, Rice and Simms
Members
Opinion by Simms
Member
 U.S. West, Inc. (opposer) has opposed the application of BellSouth Corporation (applicant), a Georgia corporation, to register the phrase shown below: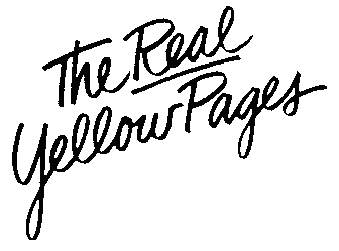 for classified directories. [FN1] In the opposition, opposer asserts the following facts: that approximately two hundred companies publish business and telephone directories called "the yellow pages"; that the industry universally acknowledges that the phrase "yellow pages" and the yellow color of the paper used for such directories are generic symbols in the public domain; that opposer by and through various subsidiaries publishes over four hundred business and telephone yellow page directories delivered to over 28 million businesses and residences throughout the country, including applicant's 9-state marketing area; that these directories are identified in whole or in part as "yellow pages"; that the parties to this proceeding are successors to portions of American Telephone and Telegraph Company (AT & T) and the Bell System, which underwent divestiture on January 1, 1984; that before divestiture each party published yellow page directories only in their franchise areas; and that after divestiture and the breakup of the Bell System, the parties continued publishing yellow page directories in their primary states and also began publishing in other states in competition with each other. As grounds for opposing, opposer asserts:
   8. Applicant's use of "the real yellow pages" (with "real" underlined) is a deliberate attempt to deceive consumers into believing that its yellow pages are real, genuine, original and the "one and only" yellow pages while other yellow pages are fake, unreal, not genuine, or copies. Applicant's attempt to promote such belief is deceptive and consumers are likely to be misled, confused, and deceived.
   9. Applicant's registration of the adjective "real" to describe the generic product "yellow pages" would allow Applicant not only to deceive consumers, but to have a government sanctioned monopoly on deceiving consumers. Allowing registration of "the real yellow pages" could effectively and practically grant Applicant federal registration for the generic words "yellow pages," notwithstanding Applicant's disclaimer, because (i) use by competitive directory publishers of other adjectives to describe their "yellow pages" (such as "the best yellow pages," "the original yellow pages," or "the genuine yellow pages") could arguably be prevented by Applicant's registration due to the possible connotation and scope of meaning of such registration, and (ii) the use of "yellow pages" by competitive directory publishers could be construed as fraudulent by consumers since those yellow pages would not be the "real" one in view of Applicant's registration ...
    *2 12. The phrase "the real yellow pages" consists of deceptive matter or matter which may disparage or falsely suggest a connection with Opposer and its subsidiaries within the meaning of Lanham Act Section 2(a).
Finally, opposer asserts that the phrase sought to be registered is deceptively misdescriptive or merely descriptive of applicant's goods and that the phrase sought to be registered so resembles the phrase "yellow pages," which has been used by opposer and its subsidiaries, as to be likely to cause confusion. In the concluding paragraph of the opposition, opposer charges that registration to applicant would grant applicant an unfair competitive advantage by wrongfully appropriating a generic phrase for its exclusive use. Despite the numerous grounds asserted in opposer's pleading, in opposer's principal brief opposer charges only that applicant's mark should be refused registration because it is deceptive, merely descriptive or deceptively misdescriptive. Opposer's brief fails to address the issues of disparagement and false suggestion of a connection under Section 2(a) of the Act, 15 USC 1052(a), and the issue of likelihood of confusion. [FN2] Accordingly, we treat the issues of disparagement, false suggestion and likelihood of confusion as having been dropped by opposer. [FN3]
 In its answer, applicant has denied the essential allegations of the opposition but has admitted that applicant was formed as a result of the divestiture of AT & T and that since then it has published through its subsidiary classified directories in competition with other directory publishers including opposer.
 The record of this case consists of testimony (and exhibits) taken by both parties; discovery depositions (and exhibits) and documents produced by applicant and relied upon by opposer's notice of reliance; [FN4] third-party registrations and opposer's responses to certain of applicant's interrogatories, all relied upon by applicant's notices of reliance; and the application file. Briefs have been filed and counsel for both parties appeared at an oral hearing of argument.
 According to the testimony of David Carlson, the director of marketing of US West Marketing Resources Group, a subsidiary of opposer, opposer operates telephone companies in the "certificated areas" comprising fourteen western and midwestern states (Washington, Oregon, Idaho, Utah, Wyoming, Montana, Colorado, New Mexico, Arizona, South Dakota, North Dakota, Nebraska, Minnesota and Iowa). On January 1, 1984, as a result of divestiture (as the settlement of an antitrust suit brought against AT & T is called), AT & T divested itself of the ownership of a number of regional telephone companies. Seven regional holding companies were formed, two of which are the parties to this proceeding. Opposer became the owner of three former operating companies--Mountain Bell, Pacific Northwest Bell and Northwestern Bell--and does business as US West Communications. It also publishes through its subsidiaries, US West Direct and TransWestern Publishing Company, white page and yellow page classified directories in the areas in which opposer renders telecommunications services and in other geographic areas, including where applicant offers telephone services through its two operating companies.
  *3 According to the witness, a yellow page directory is a classified telephone listing on yellow paper of businesses (advertisers) in a certain geographic area. [FN5] Carlson testimony dep., 25 and Carlson discovery dep., 28. Opposer's witness also testified that the words "yellow pages" are generic words in the public domain used to refer to these classified directories. Carlson testimony dep., 40, 43, 44 and 48; Carlson discovery dep., 24, 55. The words are commonly used in the trade by competitors and others to describe classified directories listing businesses. Since divestiture, according to the testimony, there has been a substantial increase in the number of independently published directories with over eight hundred being published in opposer's geographic area alone. These independently published directories are published both by independent telephone companies and by independent yellow page directory publishers who are not affiliated with any telephone company. Opposer itself publishes over three hundred classified directories.
 Concerning the issues in this case, Mr. Carlson has testified that, with respect to applicant's mark THE REAL YELLOW PAGES, he did not know what the term "real" meant as applied to telephone directories and that the phrase implies that competitive directories are inferior or that they are not "real." For example, Mr. Carlson testified as follows:
   172.Q All right, sir, let me put it this way, sir: Suppose a directory publishing company were to come into the city of Denver and begin to call itself The Real Yellow Pages. Do you have any view as to whether or not that would have any effect or impact on the business of US WEST, insofar as publishing directories is concerned?
   A Well, I think it could, because it--the phrase "The Real Yellow Pages," in my mind, tends to infer something inferior about any other yellow pages. And yes, I would guess that could have an effect.
   173.Q Would you consider that effect beneficial?
   A Certainly not to US WEST and its subsidiaries.
***
   175.Q All right, sir. Do you have any view, if a company were to publish a yellow page directory and refer to itself as The Real Yellow Pages and have advertising that said it was most complete or most comprehensive, do you have any view as to what kind of an effect that might have on the directory publishing business of US WEST?
 MR. SCHAETZEL: Where are we now? We were in Florida for a second and then were back in Denver. Where are we?
 MR. GOLDENBERG: We are nowhere right now. We have no geographical location.
   A I think if you try to associate the phrase "The Real Yellow Pages" with attributes of a yellow pages and infer that those attributes apply only to whatever The Real Yellow Pages happens to be, then I think that implies something inferior about any other products (indicating). It's somewhat disparaging.
   (Carlson testimony dep., 51-52)
 During his discovery deposition, taken several months before his testimony deposition, Mr. Carlson indicated that he knew of no facts or evidence supporting the allegations in the notice of opposition that applicant's mark was deceptively misdescriptive, merely descriptive, deceptive or disparaging. Carlson dep., 61, 67 and 68. Nor did he have any information concerning any intention on the part of applicant to mislead the public by the use of the phrase sought to be registered.
  *4 According to the testimony of Wayne Collier, the advertising manager of BellSouth Advertising and Publishing Corporation (BAPCO), a subsidiary of applicant, this subsidiary publishes directories for South Central Bell Telephone Company and for Southern Bell Telephone and Telegraph Company, the two telephone operating companies of applicant. BAPCO is responsible for selling advertising space in these classified directories. With some exceptions, these directories are distributed only where South Central Bell and Southern Bell provide telephone service. Annually, BAPCO publishes and distributes over 40 million directories for over five hundred communities in various southern states. While BAPCO uses television, radio, direct mail, newspaper, magazine and outdoor advertising to solicit businesses who may wish to advertise in these yellow page directories, it has promoted its mark primarily in advertising campaigns on television. BAPCO has spent many millions of dollars on such advertising since 1984. BAPCO's sales force has used the mark in soliciting advertisers.
 According to applicant's records, the mark THE REAL YELLOW PAGES was first used in August 1984. During discovery, Mr. Collier was asked the circumstances behind the adoption and promotion of THE REAL YELLOW PAGES as a brand for applicant's telephone directories:
   384.Q What were the circumstances that brought about any meetings or discussions to consider changes in the advertising direction or thrust of BellSouth?
   A Feedback from salespeople that there was confusion in the marketplace, focus group research which indicated that consumers were confused about the entrance of new classified directories in the marketplace, an awareness of nationwide the entry of publishers into the directory publishing business created a sense that our end users, well, that there was confusion in the marketplace.
   385.Q Confusion about what?
   A Directories that consumers thought were from Southern Bell and South Central Bell that in fact were not from Southern Bell and South Central Bell. Sales calls by salespeople from publishers who did not clearly indicate to the businessman that they were not from Southern Bell and South Central Bell, complaints and confusion on that part.
***
   398.Q Would it be correct that the nature of the confusion that you heard about or was reported to you, that there was uncertainty as to the source of these directories in those two communities?
   A That as well as there was a misidentification that people perceive they came from Southern Bell and from South Central Bell.
***
   406.Q Do you have a view as to whether or not the results of these focus group studies confirmed the impressions you had formed about confusion in the market?
   A There was enough evidence that along with the other evidence that we had, that we felt the confusion issue was a very serious issue to us.
   Q Coming to that view, what action was then taken?
   A In the planning session, we talked in terms of how do we differentiate our product from other products in the marketplace, how do we clearly communicate and identify, build an identity for the Southern Bell and South Central Bell product that the consumer would not misidentify, that he would know that it came from the operating Southern Bell Company, and from the same meeting we came up with a brand slogan, and that branding slogan was The Real Yellow Pages, and we made decisions at that meeting that that would be our brand, that we would present that to our senior management and ask for their concurrence to begin to brand our product so that we might differentiate it from the other products in the marketplace.
    *5 (Collier discovery dep., 71, 73-74, 75-76.)
See also Collier testimony dep., 66 and 179.
 Other testimony further indicates that it was applicant's intention to adopt a mark which distinguished the telephone directories of Southern Bell and South Central Bell from those of others.
   507.Q Now, what was the assignment you gave to those two [advertising] agencies as you recall it?
   A That we wanted to position our product in the minds of the consumer as The Real Yellow Pages--no, position our product in the minds of the consumer as The Real Yellow Pages with an association to Southern Bell and South Central Bell so that when you recognized or saw that brand, you immediately said yes, that's the one that comes from Southern Bell and South Central Bell. That was our strategic point of view. It was a positioning campaign that we were designing.
***
   761.Q (By Mr. Goldenberg) It was a slogan; was it not?
   A Well, I think that's semantics. To us it was a group of words that we wanted to represent our product. I think you had called it a slogan, we call it a brand. We want people to see those words and say this is the product from the telephone company, from Southern Bell, see, so it's semantics to me.
   762.Q You didn't want to convey the impression in any way that anybody else's directory in some way was unreal?
   A No, sir. The objective was stated and I think you will see in some of these documents was simply differentiation. This is the product that comes from Southern Bell.
   763.Q It was not to cast doubt on the value of other directories?
   A That's correct.
   (Collier discovery dep., 103, 189.)
 Finally, Mr. Collier testified that, in adopting the mark THE REAL YELLOW PAGES, applicant had no intent to disparage competitors or their products (testimony dep., 95), and that if he had believed that the mark was disparaging, applicant would have taken action (testimony dep., 121). Thus, even though internal documents state that the use of the mark was intended to "establish doubts about the value of look-alike directories ...," the mark was adopted, according to Mr. Collier, as a brand to distinguish its directories from those of others and, together with its advertising, to emphasize the advantages of its directories, such as consumer usage, distribution and accuracy.
 As noted above, opposer argues that the phrase THE REAL YELLOW PAGES is either descriptive or deceptively misdescriptive:
   Under the facts of this case, no word was ever more descriptive than the word "real", used by a particular telephone company to describe yellow page classified directories.
   All of the evidence taken by both sides supports one of two views: (1) a real yellow page directory is published by a local telephone company, wherever that may be; or (2) some other yellow page directories are fake or phoney or in some way not as good. No credible or convincing evidence supports the view that a real yellow page directory comes only from BellSouth or one of its companies.
    *6 (Opposer brief, 9)
Opposer argues that the term "REAL" in applicant's mark immediately conveys some quality or characteristic of a yellow page directory such as its authenticity or genuineness and is therefore merely descriptive. At the same time, the phrase implies, according to opposer, that directories published by others do not have these qualities.
   Because many people think that the word "real" when used to describe a yellow page directory in a competitive market is claiming some form of superiority for that directory, the phrase is deceptive. That superiority may not exist. There is no evidence that it does.
Therefore, and because applicant's mark conveys an attack upon the validity, accuracy or completeness of competitive directories, opposer asserts that applicant's mark is deceptive. In its reply brief, opposer further refines its position by arguing that applicant's mark merely describes a telephone directory which has been published by the local operating company. Within applicant's certificated area, therefore, the term is merely descriptive while applicant's use in the certificated areas of other local operating companies is said to be deceptively misdescriptive or deceptive because in fact those telephone directories would not be published by the local operating company but rather by applicant.
 Upon careful consideration of opposer's arguments, we agree with applicant that the mark THE REAL YELLOW PAGES is not merely descriptive, nor does it either misrepresent or misdescribe applicant's classified telephone directories. While the mark in part informs advertisers and users that applicant's goods are a yellow page classified directory, we cannot say that the mark as a whole immediately describes any specific feature, quality of characteristic of applicant's goods. While the term "real" is an ordinary word found in the dictionary, it has a number of meanings and, in our view, does not convey any immediate or precise significance with respect to applicant's goods. Rather, the phrase as a whole appears to us to be a suggestive mark lacking in specific meaning or definite informational quality. [FN6]
 In order for a mark to be found deceptively misdescriptive within the meaning of Section 2(e)(1) of the Trademark Act, 15 USC 1052(e)(1), it has been held that a mark must misdescribe the goods and be deceptive in that one would be likely to believe the misrepresentation. In re Quady Winery Inc., 221 USPQ 1213, 1214 (TTAB 1984). For the reasons indicated above, we do not believe the mark THE REAL YELLOW PAGES is either descriptive or misdescriptive of a character, quality or function of applicant's goods. Accordingly, applicant's mark is not deceptively misdescriptive.
 Even if we were to find applicant's mark merely descriptive or deceptively misdescriptive, however, we fully agree with applicant that this record establishes that the mark has acquired distinctiveness and is registrable under Section 2(f) of the Act, 15 USC 1052(f). Applicant has received revenues of many millions of dollars from the sale of advertising space in its directories distributed under the mark sought to be registered and over 40 million copies of this directory have been distributed annually. Applicant has used the phrase exclusively and continuously (with the "TM" designation) for over five years. In this regard, we have given little weight to the three surveys or tracking studies which applicant conducted in 1986, 1987 and 1988. The results of these telephone interview surveys are unreliable for the reasons pointed out by opposer's expert witness on rebuttal. [FN7] We believe that these surveys introduced bias into the minds of the interviewees by initially asking the survey respondents if they had seen any advertising for the Southern Bell/South Central Bell yellow pages. As opposer's witness indicated, the surveys should have asked if the interviewees had seen advertising for any yellow pages and, if they had, asked who had sponsored those advertisements.
  *7 We also find that applicant's mark is not deceptive. In order for a mark to be deceptive, it must misdescribe the character, quality, function, composition or use of the goods; prospective purchasers must be likely to believe the misdescription; and the misdescription must be likely to affect the purchasing decision. In re Budge Manufacturing Co. Inc., 857 F.2d 773, 8 U.S.P.Q.2d 1259, 1260 (Fed.Cir.1988). Because applicant's mark satisfies none of the above tests, we conclude that applicant's mark is not deceptive. The mark THE REAL YELLOW PAGES is unlike such deceptive marks as LOVEE LAMB for automobile seat covers not made of lambskin (In re Budge), or such other deceptive terms as CEDAR RIDGE for non-cedar house siding (Evans Products Co. v. Boise-Cascade Corp., 218 USPQ 160 (TTAB 1983)) or SOFTHIDE for imitation leather (Tanners Council of America, Inc. v. Samsonite Corp., 204 USPQ 150 (TTAB 1979)).
 Finally, it should be observed that our decision allowing registration herein does not deprive competitors and others from the free use of certain words in the English language. Competitors are deprived only of the use of the mark THE REAL YELLOW PAGES or any words likely to cause confusion with that mark. Competitors are free to use the words "real," and "yellow pages" in whatever non-trademark manner they choose. In re Reynolds Metals Company, 480 F.2d 902, 178 USPQ 296, 297 (CCPA 1973).
 Decision: The opposition is dismissed with prejudice.
J.D. Sams
J.E. Rice
R.L. Simms
Members, Trademark Trial and Appeal Board
FN1. Application Serial No. 520,226, filed February 1, 1985, claiming use since October 16, 1984. In the application, applicant has disclaimed exclusive right to the words "Yellow Pages."
FN2. Opposer's argument in its reply brief that applicant's mark is disparaging comes too late.
FN3. Moreover, even if we were to treat these issues on their merits, we would rule against opposer. With respect to disparagement, there is no evidence that applicant's phrase would be understood as referring to the plaintiff (indeed, the evidence is to the contrary); nor is there evidence that applicant's phrase would be considered "offensive or objectionable by a reasonable person of ordinary sensibilities." Greyhound Corp. v. Both Worlds Inc., 6 U.S.P.Q.2d 1635, 1639 (TTAB 1988).
 Also, a party asserting a claim under Section 2(d) of the Act, or claiming that applicant's mark falsely suggests a connection with it pursuant to Section 2(a) of the Act, must establish prior use of a trademark, trade name or other indication of origin, either inherently distinctive in nature or having acquired distinctiveness. Frederic C. Towers v. Advent Software, Inc., U.S.P.Q.2d (Fed.Cir. September 6, 1990), and National Aeronautics and Space Administration v. Bully Hill Vineyards Inc., 3 U.S.P.Q.2d 1671, 1676 (TTAB 1987). Here, not only has opposer conceded that the term "yellow pages" is generic and that it has no proprietary rights in the term, but also opposer has admitted in its discovery responses that it has not previously used any trade name or trademark that so resembles applicant's mark as to be likely to cause confusion.
FN4. While the documents referred to are not printed publications and official records within the meaning of Trademark Rule 2.122(e), we have considered these documents because applicant has expressly agreed to their authenticity and the accuracy of the information in those documents.
FN5. According to opposer's witness, the "lore" in the trade is that the first yellow page directory was a classified listing of businesses in Cheyenne, Wyoming, printed on yellow paper because the printer was out of white paper. Carlson testimony dep., 26.
FN6. Although the third-party registrations submitted by applicant are of little probative value, it is interesting to note that such phrases as THE REAL VARIETY STORE ("VARIETY STORE" disclaimed, for retail variety store services), REAL RECORDS ("RECORDS" disclaimed, for phonograph records), REAL RADIO COMPANY ("RADIO COMPANY" disclaimed, for broadcasting services), THE REAL PRINTERS ("PRINTERS" disclaimed, for photocopying services), THE REAL REAL ESTATE COMPANY ("REAL ESTATE COMPANY" disclaimed, for real estate brokerage services) and REAL FILTER ("FILTER" disclaimed, for filters), have been registered by this Office. With respect to the probative value of these third-party registrations, it is opposer's position that the use of the word "REAL" in connection with telephone directories "has a very unique and special connotation in view of the 1984 divestiture of AT & T and the consequent desire of the public to be able to identify the telephone directory published by the local operating company" (brief, 7).
FN7. Applicant has objected to the testimony of Harvey Sundel, opposer's rebuttal witness, because his testimony was assertively not proper rebuttal. More particularly, applicant argues that opposer itself in its case-in-chief relied upon a discovery deposition wherein testimony was adduced concerning applicant's studies and the studies themselves were introduced as exhibits. By introducing and relying upon applicant's studies, applicant argues, opposer "affirmed and relied upon the credibility of these studies" (brief, 23). Applicant argues that opposer should not be able to claim the benefit of certain responses in applicant's studies while at the same time seeking to attack these same studies in its rebuttal testimony. Therefore, and because applicant had no opportunity to call its own witness in response to opposer's rebuttal testimony, applicant argues that Mr. Sundel's testimony should be excluded.
 We have decided to consider opposer's rebuttal testimony concerning the methodological flaws in applicant's surveys. Opposer relied upon that part of the surveys (and the testimony relating thereto) concerning the meaning of the phrase to the survey respondents. We agree with opposer that any flaws in the survey do not appear to invalidate the findings that applicant's mark had various meanings to the interviewees. Accordingly, we believe opposer was at liberty to attack the surveys introduced by applicant during its testimony period for the purpose of demonstrating acquired distinctiveness in its mark.
1990 WL 354598 (Trademark Tr. & App. Bd.), 18 U.S.P.Q.2d 1307
END OF DOCUMENT
© 2005 Thomson/West. No Claim to Orig. U.S. Govt. Works.
1990 WL 357712 (Trademark Tr. & App. Bd.)
(Cite as: 1990 WL 357712 (Trademark Tr. & App. Bd.))
Trademark Trial and Appeal Board
Patent and Trademark Office (P.T.O.)
*1 IN RE STARCRAFT CORPORATION
Serial No. 704,344
November 1, 1990
Barnes & Thornburg for applicant
David Stine
Senior Trademark Examining Attorney
Law Office 8
(Sidney Moskowitz, Managing Attorney)
Before Rice, Rooney and Seeherman
Members
Opinion by Rooney
 This case is before us for consideration of the appeal of applicant from the refusal to register the mark GALAXY for camping trailers [FN1] under Section 2(d) in view of a registration of the mark GALAXIE (in the form shown below) for pick-up truck covers, pick-up truck campers, and seats, benches, tables and convertible sleep sofas specifically designed for installation into camper units. [FN2]
<- Image delivery not available with current Options format setting. ->
 The Examining Attorney submitted evidence in the form of advertisements appearing in the classified section of the 1987 C & P Telephone Director (Maryland) which, under the heading of RECREATIONAL, illustrate that a number of companies sell, service or rent travel trailers, truck caps and truck and tent campers.
 Applicant argued that the goods sold under applicant's trademark appeal to a different submarket than goods sold under registrant's mark. In support of this argument, applicant submitted copies of registrant's advertising brochure, copies of pages of advertising shown in the 1988-1989 South Bend (Indiana) Telephone Directory, of an article from Outdoor Life, December 1985, of the 1987 RV Buyer's Guide and of an article from The Family Handyman, April 1987 which assertedly prove this point. In addition, applicant argues, the goods sold under the applicant's mark have sales prices of approximately $5,000 while pick-up truck caps typically cost from $375.00 to $900.00.
 After the final refusal, the applicant requested reconsideration in view of the execution of an agreement in which the owner of the cited registration has consented to applicant's use and registration of its mark for the named goods. [FN3] Applicant also called attention to the fact that the parties have coexisted in the marketplace for more than seventeen years. The Examining Attorney, saying that the agreement's allegations of dissimilar trade channels are flatly contradicted by the record, was not persuaded to allow the application to proceed to publication. Another request for reconsideration was filed, this time including pages of classified advertisements from the telephone directories of several midwestern cities under the headings of TRUCK CAPS & SHELLS; TRAILERS-CAMPING & TRAVELING; and RECREATIONAL VEHICLES-DEALERS and applicant's argument that this evidence shows the separate and distinct trade channels for the parties' goods. The refusal was maintained, the Examining Attorney noting that the "highlighted excerpts from Applicant's own evidence show that both Registrant's goods, truck caps/truck campers and Applicant's goods, camping trailers, are sold by a significant number of dealers" and arguing that the "mere fact that these dealers may be cross-referenced under two different Yellow Page headings is deemed to be of no significance whatever in establishing 'separate' trade channels". Applicant's appeal followed.
  *2 Considering the facts of this case in light of the factors relevant to a determination of likelihood of confusion as set forth in In re E.I. duPont de Nemours & Co., 476 F.2d 1357, 177 USPQ 563 (CCPA 1973), we find that the goods are closely related and the marks are quite similar in sound, appearance and meaning.
 We recognize that there are some differences between the goods, nevertheless, we do not believe that it can be seriously contended that they are unrelated. Contrary to applicant's assertions, we believe that the potential market for the goods is the same. Rather than proving that there are distinctly different markets for these goods, applicant's evidence proves quite the opposite. It may be more difficult to find dealers advertising both types of goods when reviewing the classified ads under certain very specific headings, such as, "Truck Caps & Shells", but, under the more general headings it becomes readily apparent that the same dealers sell and service both types of products. The magazine excerpts submitted by applicant indicate clearly that articles are written comparing the merits of one type of camping unit over the other. These articles are directed to the same potential buyer. For example, the 1987 RV Buyers' Guide index lists a number of these products ranging from the largest, most expensive to the smallest and possibly least expensive. These include "Class A Motorhomes", "Travel Trailers" of various sizes, "Folding Camping Trailers" and "Pickup Campers". A similar comparison is made in the article from The Family Handyman, April 1987, where it is indicated that the "folding camping trailer" (which applicant's brochure indicates at least some of applicant's goods are) ranges from $1,900 to $10,000 while the truck camper prices range from $3,000 to $10,000. In addition to the foregoing, it is noted that applicant concedes in its reply brief that "... pick-up truck campers and camping trailers are merely varieties of recreational vehicles". Applicant itself sells both as evidenced by its advertising brochure in which it is stated, "Our lineup of RVs now includes luxurious fifth wheels, travel trailers, and truck campers". There is little doubt that the market for the parties' goods is the same. The individual who is contemplating buying a camper has a choice between a completely contained motorhome, a camping unit which may be pulled behind a car or a pickup truck (applicant's) or a camping unit which may be added to the bed of a pickup truck (registrant's). If one has already made a decision on the preferred type of camper, he, or she, may look at only that one type. But it is likely that potential purchasers who haven't progressed to that point will look at all or several types of these vehicles before making a purchasing decision. Finally, while we are aware that these are not impulse items, neither are they so technical or complicated that purchasers would be expected to be more knowledgeable or sophisticated than the ordinary prudent purchaser. In view of the foregoing, we conclude that applicant's goods are closely related to registrant's goods.
  *3 Turning to the marks, we note that the marks sound alike and have the same connotation. If one were to inquire verbally about one or the other of these articles, referring to them by their trademarks, there is literally no difference between them in sound. While some difference can be noted in their appearances, one is more likely to retain a general impression of a mark rather than to remember specific small differences. Apart therefrom, where, as in this case, there is such a close relationship between the goods, we believe a potential purchaser who is aware of both marks is more than likely to consider GALAXIE and GALAXY to be variations of the same mark.
 Although the marks have the same connotation, they neither describe nor suggest anything about the goods of either party. Nor is there any evidence of third-party use of the marks GALAXIE or GALAXY. That is, registrant's mark has not been shown to be a weak mark, in which case a competitor could come closer without causing confusion than would be possible in the case of a strong mark. See Sure-Fit Products Co. v. Saltzson Drapery Co., 254 F.2d 158, 117 USPQ 295 (CCPA 1958); In re Hunke & Jochheim, 185 USPQ 188 (TTAB 1975); In re Philip Morris Inc., 179 USPQ 60 (TTAB 1973); and cases cited in the latter two cases.
 All else being equal, we would find that there is a likelihood of confusion in this case. The question remaining is whether the consent agreement is sufficient, along with the other relevant duPont factors which we have considered, to persuade us to reach a different conclusion.
 Judge Nies, referring to In re E.I. duPont deNemours & Co., 476 F.2d 1357, 177 USPQ 563 (CCPA 1973), commented that "... the DuPont case does not make it a 'given' that experienced businessmen, in all cases, make an agreement countenancing each other's concurrent use of the same or similar marks only in recognition of no likelihood of confusion of the public. One must look at all of the surrounding circumstances, as in DuPont, to determine if the consent reflects the reality of no likelihood of confusion in the marketplace, or if the parties struck a bargain that may be beneficial to their own interests, regardless of confusion of the public. For example, the parties may prefer the simplicity of a consent to the encumbrances of a valid trademark license. However, if the goods of the parties are likely to be attributed to the same source because of the use of the same or a similar mark, a license (not merely a consent) is necessary to cure the conflict." In re Mastic Inc., 829 F.2d 1114, 4 USPQ2d 1292 (Fed.Cir.1987).
 In this case, we have an agreement between two parties which merely states that they are familiar with the markets for the goods and agree that there is no likelihood of consumer confusion resulting from their respective uses of the marks 'GALAXIE" and "GALAXY". The agreement is noticeably silent regarding the trade channels and purchasers for the goods which the evidence strongly indicates are the same for both parties, although applicant has argued otherwise. It is questionable how the parties can profess to be familiar with the channels of trade shown by the evidence, particularly where the applicant sells and advertises both items of goods in the same brochure, and still agree that there is no likelihood of confusion from use of their respective marks on the goods. Further, while applicant agrees not to use registrant's mark on goods of the type listed in registrant's registration, it has not agreed to refrain from using its own mark on such goods. Moreover, there is no committment from registrant regarding future use of the marks. Nor is there any information regarding the extent of the use of the marks made by the parties. That is to say, while registrant claims a date of first use of 1971 and applicant of 1968, the record does not indicate whether the nature and extent of the uses made by the parties during that period was such as to have provided a basis on which the parties may conclude that there is no likelihood of confusion from their contemporaneous use.
  *4 We do not suggest by the foregoing comments that there is a particular formula which must be followed in a consent agreement between parties in this situation. We also recognize that such agreements are entitled to significant weight in the determination of likelihood of confusion. Nonetheless, it appears to us that a more definitive statement is necessary in this case to support the parties' conclusion that there is no likelihood of confusion since there is uncontroverted evidence in the record which clearly supports a contrary view. We note in this connection the comments made by the court in the case of Amalgamated Bank of New York v. Amalgamated Trust & Savings Bank, 842 F.2d 1270, 6 USPQ2d 1305 (Fed.Cir.1988), with respect to the Board's conclusions regarding the banking business, to the effect that "The source of the board's knowledge is hard to divine. It is certainly not in the record, which is wholly devoid of anything to discredit or contradict the recitals in the agreement." That is clearly not the case here where all that has been offered in the consent agreement is a bald statement which is inconsistent with the evidence.
 Inasmuch as the agreement filed by applicant raises more questions than it answers, we do not believe the consent agreement forged in this matter is sufficient to tip the scales in favor of registration.
 Accordingly, the refusal to register is affirmed.
J. E. Rice
L. E. Rooney
E. J. Seeherman
Members, Trademark Trial and Appeal Board
FN1. Ser. No. 704344 filed January 7, 1988 claiming use since at least November 1968.
FN2. Regn. No. 1,179,017 issued November 24, 1981, Section 8 affidavit accepted, Section 15 affidavit filed.
FN3. The agreement reads, in relevant part, as follows:
   Starcraft agrees it has no right to use and will not use the mark "Galaxie" for the goods listed in the '017' registration. Galaxie Corp. consents to Starcraft's registration and use of "Galaxy" for camping trailers. Both parties are familiar with the the (sic) markets for these goods and agree that there is no likelihood of consumer confusion resulting from their respective uses of the marks "Galaxie" and "Galaxy". Both parties agree to avoid any suggestion that one party is the source or sponsor of the goods manufactured or sold by the other party.