Trademark Trial and Appeal Board
Patent and Trademark Office (P.T.O.)
*1 IN RE IN OVER OUR HEADS, INC.
Serial No. 755,278
August 28, 1990
Hearing: July 17, 1990
Paul H. Johnson of Head & Johnson for applicant
Cora Ann Moorhead
Trademark Examining Attorney
Law Office 1
(Deborah Cohn, Managing Attorney)
Before Rice, Seeherman and Hanak
Members
Member
 In Over Our Heads, Inc. (applicant) seeks to register MOONIES and design  (shown below) for "dolls." [FN1]
 Registration was refused pursuant to Section 2(a) of the Lanham Trademark Act 15 U.S.C. Section 1052(a) on the basis that the mark comprises scandalous matter which disparages The Unification Church founded by the Reverend Sun Myung Moon. [FN2] The Examining Attorney notes that the two "o"s in applicant's mark are caricatures of naked buttocks and that applicant's mark is used in connection with dolls (pictured below) which drop their pants when a collapsible bulb is squeezed, thus exposing their buttocks. [FN3]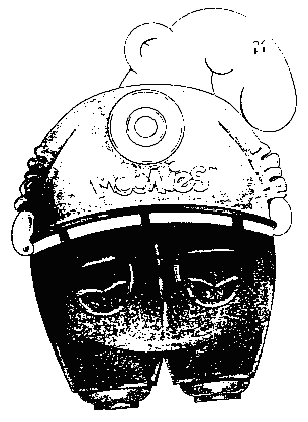 When the refusal was made final, applicant appealed to this Board. Applicant and the Examining Attorney filed briefs and were present at the oral hearing held on July 17, 1990.
 We note at the outset that the Examining Attorney has not contended that the term "Moonies" (or "moonies") is per se scandalous or disparaging. If it was, then presumably the same Examining Attorney would not have passed to publication the mark MOONIES in block letters used by another applicant for clothing. [FN4] Rather, the Examining Attorney contends that applicant's mark is "lacking in taste and is an affront to an organized religious sect" because the second and third letters in applicant's mark form the "caricature of naked buttocks" and because the mark is used on dolls whose pants can be dropped, thus exposing their buttocks. (Examining Attorney's brief pages 5-6).
 As previously noted, there are dictionary definitions of record which show that the term "Moonie(s)" refers, in one sense, to a member of The Unification Church. [FN5] However, there are also dictionary listings of record showing that the term "moon" means to expose one's buttocks. Moreover, we note that the term "moony" or "mooney" is defined as "of or relating to the moon .. [or] shaped like the moon." Webster's Third New International Dictionary Unabridged (1976). We believe that applicant's mark MOONIES--with its naked buttocks design and spelled without emphasizing the letter "m"--would, when used on a doll, most likely be perceived as indicating that the doll "moons," and would not be perceived as referencing members of The Unification Church.
 We recognize that this is a close case, and in making our determination that applicant's mark is not scandalous or disparaging, we are not free of doubt. However, the guidelines for determining whether a mark is scandalous or disparaging are "somewhat vague" and the "determination [of whether] a mark is scandalous [or disparaging] is necessarily a highly subjective one." In re Hershey, 6 USPQ2d 1470, 1471 (TTAB 1988). Because the guidelines are somewhat vague and because the determination is so highly subjective, we are inclined to resolve doubts on the issue of whether a mark is scandalous or disparaging in favor of applicant and pass the mark for publication with the knowledge that if a group does find the mark to be scandalous or disparaging, an opposition proceeding can be brought and a more complete record can be established. Cf. In re Gourmet Bakers, Inc., 173 USPQ 565 (TTAB 1972) ("It has been recognized by this and other tribunals that there is no easy applicable objective test to determine whether or not a particular mark, as applied to specific goods, is merely descriptive or merely suggestive. The distinction between marks which are 'merely descriptive' and marks which are 'suggestive' is so nebulous that more often than not it is determined largely on a subjective basis with any doubt on the matter being resolved on applicant's behalf on the theory that any person who believes that he would be damaged by the registration will have an opportunity under Section 13 to oppose the registration of the mark and to present evidence, usually not present in the ex parte application, to that effect.")
  *2 Decision: The refusal to register is reversed.
J. E. Rice
E. J. Seeherman
E. W. Hanak
Members, Trademark Trial and Appeal Board
FN1. Application Serial No. 755,278 filed October 3, 1988 claiming first use on September 16, 1988. It is indicated in the application that the drawing is lined for the colors pink and yellow, and that the color pink is a part of the mark, but the color yellow is not. The application also includes a statement that the mark consists of the word "moonies" in a design format with the "oo" portion of the word in buttocks caricature.
FN2. It is not entirely clear whether the Examining Attorney has rejected the mark (1) on the basis that it "consists of or comprises ... scandalous matter" or (2) on the basis that it "consists of or comprises ... matter which may disparage ... institutions [or] beliefs ..." Section 2(a) of the Lanham Trademark Act. In reaching our decision, we have treated the rejection as if it is based on both grounds.
FN3. The picture of applicant's doll was taken from the packaging for the doll which applicant's attorney submitted at the oral hearing with the consent of the Examining Attorney.
FN4. There is in the record a short article appearing in the April 24, 1989 edition of U.S.A. Today indicating that the term "Moonies" may be viewed by some members of that religious group as being derogatory. However, the record is also replete with articles taken from major newspapers and magazines wherein the term "Moonies" is used to refer to members of The Unification Church. These articles do not suggest that the term "Moonies" is derogatory, and we doubt that such major newspapers and magazines would have repeatedly used a term derogatory of a particular religious group. Moreover, the term "Moonies" appears in dictionaries and is defined as meaning, in one sense, members of a particular religious group. These dictionary listings do not state that this term is derogatory or disfavored. Hence, in reaching our decision in this case, we have operated on the premise that "Moonies" is an accepted, nonderogatory term for members of The Unification Church.
FN5. The term "moonie(s)" or "moony" is also defined as "a little ball cut from translucent stone and used in playing marbles." Webster's Third New International Dictionary Unabridged (1976).