*1 IN RE CABOT CORPORATION
Serial Nos. 624,768; 624,769
May 8, 1990
Hearing: October 17, 1989
Buchanan Ingersoll for applicant.
Before Rice, Simms and Hanak
Members
Opinion by Simms
Member
 Cabot Corporation has appealed from the final refusals of the Trademark Examining Attorney to register the configurations shown below for personal hearing protective devices in the nature of ear plugs. [FN1] In the original applications, applicant has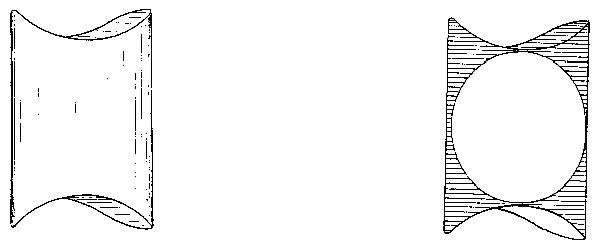 claimed that its asserted marks have become distinctive under Section 2(f) of the Act, 15 USC 1052(f), on the basis of substantially exclusive and continuous use for at least five years preceding the filing of the applications.
 In both applications, the Examining Attorney has refused registration on the basis that the so-called "pillow pack" container configuration sought to be registered is de jure functional because it is a configuration of a pre-existing type of packaging (that is, previously used by others) which is essentially functional in nature. With respect to the application seeking registration of the configuration alone, the Examining Attorney maintains that applicant's evidence of acquired distinctiveness is insufficient. Concerning the application which seeks registration of the shape of the pillow-pack container along with the trade dress (white circle surrounded by blue border), the Examining Attorney in his brief has withdrawn the refusal based upon the insufficiency of applicant's Section 2(f) evidence. However, should the Board hold that the configuration sought to be registered is de jure functional, then, the Examining Attorney maintains, applicant must disclaim the package configuration in that application. It is applicant's position, on the other hand, that while others have used a similar package for different goods, the pillow-pack container sought to be registered is not the subject of a utility patent, that cheaper alternatives are available and that the pillow-pack container when used as packaging for applicant's ear protection devices has become associated with applicant. Before deciding this case, we shall discuss in more detail the respective positions of the Office and applicant's attorney and the evidence upon which each relies.
 The Examining Attorney argues that the pillow-pack container is a type of paperboard carton in the packaging field that is not unique to applicant. According to the Examining Attorney, the appearance of applicant's carton is dictated by the utilitarian function it performs and, although it is somewhat more unusual than the more common rectangular paperboard cartons or folding boxes, its appearance is not ornamental in character. This container, therefore, according to the Examining Attorney, should be freely available to anyone who wishes to use it for packaging his goods. Because this type of packaging is assertedly in the public domain, the Board is urged to preclude the exclusive appropriation by applicant as a trademark when it is used for normal packaging purposes for which it is intended and suitable. [FN2] Because the shape of applicant's container is highly utilitarian and the best or one of the superior shapes of containers available, the fact (as demonstrated by affidavits of record) that no other company in applicant's product field is using this container does not establish its nonfunctionality. When used for ear plugs or other small objects, according to the Examining Attorney, the pillow-pack container is de jure functional.
  *2 As evidence of functionality, the Examining Attorney points to a utility patent (U.S. Patent No. 3,929,222, issued December 30, 1975) not held by applicant, covering a "Pillow Box Blank." This patent discloses various modifications of a package with two opposed curved sides (two rectangular paperboard support pedestals or legs at one end of the container so that it is self-standing, a hanging hole at the other end so that it may be hung from a bracket, and a window through which the product may be viewed). The Examining Attorney also points to applicant's advertising and promotional literature which emphasizes the practical or functional value of applicant's cartons. This evidence consists of a promotional piece entitled "There's still only one thing better for hearing protection than the E-A-R Plug."
Handy, re-usable package.
   The familiar blue and white E-A-R pillow-pak package is a great place to keep E-A-R Plugs during breaks and "out times." The reclosable cardboard package helps keep Plugs clean and together as a pair. It encourages re-use, too.
Elsewhere, applicant touts the reusable nature of its cardboard package for storage purposes. While there are alternative packages which may be used by competitors (square or rectangular boxes, blister cards, plastic vials, cellophane bags, etc.), applicant's pillow package has obvious advantages over some of these alternatives, argues the Examining Attorney. Also, while applicant's package may be more expensive (as demonstrated by the Memmen affidavit discussed infra), the expense is still a small part of the cost of applicant's product (less than one cent) and applicant's package has such advantages as convenience and practicality. Moreover, the paperboard construction of its product yields more strength than a cellophane bag and has less bulk than a rectangular box, although, like the latter, both are easy to open and are reusable.
 With respect to alleged distinctiveness of the shape of this container, the Examining Attorney argues that the package shape has not been promoted as a trademark per se (although the Examining Attorney concedes that the blue and white design is recognized as a trademark), and that the other evidence of record is insufficient to establish secondary meaning. In support of these refusals, the Examining Attorney has made of record copies of similar packaging for such goods as contact lens cleaning solution and tea bags. [FN3]
 Applicant has made of record affidavits of three of its employees. First, Ross Gardner Jr., the inventor of applicant's foam ear plugs designed primarily for noise reduction, has attested to use of the pillow-pack carton since 1974. Mr. Gardner also asserts that some of the criteria for applicant's packaging were that the cost was to be less than one cent per package and that the package was to have some strength as a container for the ear plugs. Mr. Gardner and Mr. Charles Grigas, applicant's marketing manager, both assert that no competitor of applicant is using a similar package for hearing protectors in the United States. According to Mr. Grigas, applicant's advertisements frequently show the pillow-pack container and consumers have assertedly come to identify applicant's ear plugs by the distinctive pillow pack. Finally, applicant's operations manager, Mr. Edward Memmen, indicates that there are less expensive and more efficient packages, such as plastic or cellophane bags, which could be used to hold applicant's ear plugs. According to Mr. Memmen, the pillow-pack container is in common use for a variety of goods but pillow-pack machines are normally slower than automated bagging machines so that the cost of applicant's package is about three times higher than a polyethylene bag. Also, other paperboard boxes would perform as well, according to Mr. Memmen, and, while alternatives have been considered, applicant retained the pillow-pack package because it was unique in the field. Finally, according to Mr. Memmen, "market research" indicates that users of applicant's ear plugs associate the package with applicant.
  *3 Based upon these affidavits and exhibits of record, applicant argues that because ear plugs can be packaged in a variety of different containers (such as cellophane bags, plastic vials, paper bags, blister cards and other cardboard boxes) and because applicant has exclusively and continuously used this type of packaging in its field so that the public has come to recognize this packaging as emanating from applicant, the configurations are registrable. The paperboard box may, according to applicant, take an infinite variety of shapes and applicant's is not the best design or one of the few superior packages available. That is to say, applicant's package is not required to be in this shape but its goods could be sold in cheaper and more efficient containers. Therefore, and since the effect on competition is the "crux" of the determination of functionality, it is not essential to competitors to use applicant's style of packaging.
Functionality
 As the respective attorneys recognize, the mere existence of a function does not render a configuration unregistrable or de jure functional. To be considered de jure functional (or functional at law) it must be shown that the configuration in question is a superior one, that is, the performance of a function is enhanced by the particular shape which applicant uses. In re R. M. Smith, 734 F.2d 1482, 222 USPQ 1 (Fed. Cir. 1984) and In re Peters, 6 USPQ2d 1390, 1392 (TTAB 1988). It is not simply the performance of a function but the degree of design utility of the container or configuration under consideration that is important in the determination of de jure functionality. In re Morton-Norwich Products, Inc., 671 F.2d 1332, 213 USPQ 9, 14 (CCPA 1982). At the heart of the matter, as applicant suggests, is the right to compete effectively. It is clear that this potential hindrance on competition is critical. In re Morton-Norwich, supra.
 In determining whether a particular design or configuration is a superior one, the following factors are relevant: (a) the existence of a utility patent showing the functional advantages of the design; (b) advertising materials showing that the utilitarian advantages of the shape have been touted by applicant; (c) the availability of alternative designs; and (d) facts relating to the question of whether the design or shape is the result of a comparatively simple or inexpensive method of manufacture. See In re Morton-Norwich, supra, 15-16.
 In the case before us, the record contains a copy of a utility patent, noted above, which discloses the utilitarian features of the configuration sought to be registered. While the patent covers additional features which are not a part of applicant's container, it does describe essential features of applicant's package.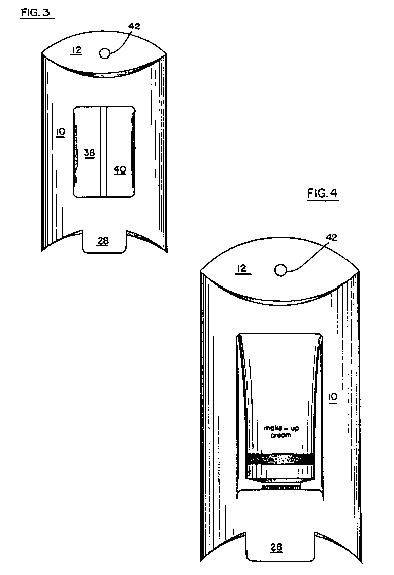 A one-piece blank is provided which may be composed of paperboard, or other suitable material, and which is used to form a pillow-pack type of carton. The carton has a generally ellipsoidal shape with reinforced end walls, and it has a pair of cover flaps which extend over the elliptical edges of the end walls and which are glued together along one side edge of the carbon [sic, should be carton] ...
BACKGROUND OF THE INVENTION
    *4 It is usual in the fabrication of paperboard cartons of the pillow-pack type to provide a pair of cover flaps which are glued together along one edge and which define a carton having a generally elliptical cross-section, and to form end flaps which fold into the elliptical ends of the carton, and which may be opened to provide access into the interior of the carton. The pillow box blank of the present invention is appropriately shaped, slit and cut so that it may be formed into such a configuration.
   In addition, however, the blank of the invention provides pedestals at one end of the carton so that the carton may be placed upright on one end on a supporting surface in a self-standing position. Moreover, a window is formed in one of the cover flaps, as mentioned above, so that the product contained in the carton may be displayed, the window having side flaps which serve to hold the product firmly in the carton.
 It is clear that applicant did not originate or design the shape of the package which it uses but has used a pre-existing package that has been used by others in different fields of commerce to package their merchandise. It is as fairly common type of package. Under these circumstances, applicant's argument in its brief that, although the design was accommodated to the function it performs, it was not dictated by them is not understood. Applicant has not altered the shape of this type of package but has only printed matter thereon.
 While the record does support applicant's position that its cardboard container is more expensive than the most common form of packaging of competitive goods -- polyethelene bags -- it is also clear that applicant's package has certain utilitarian advantages over that disposable container. Mr. Gardner has acknowledged that the container was selected partly because of its cost and strength. Of course, applicant's easy-to-use package is stronger and more durable and is not deformed as easily as a cellophane package. Applicant's package also has obvious advantages over disposable blister pack containers, the second most common type of packaging of competitive products. Applicant's counsel has stated that the paperboard carton it uses is less expensive than the equally reusable molded plastic boxes and vials. However, while that container is stronger than applicant's container, we agree with the Examining Attorney that applicant's package appears to have less bulk than such a container and would more easily be accommodated to a shirt or pants pocket.
 While applicant states in its appeal brief that other package designs perform as well if not better than applicant's container at the same or less cost, there is no support, by affidavit or otherwise, for such a statement. For example, while such information may have been available to applicant, there is no indication of the cost of a similar size rectangular paperboard carton. (It appears that applicant's pillow-pack container would require less paperboard than a similar size rectangular carton.)
  *5 As indicated above, applicant has also touted the "handy" nature of its reusable package.
 We agree with applicant that the fact that the pillow-pack container may be in the public domain does not necessarily preclude its use as a trademark. However, while there are undoubtedly alternative packages in which applicant's goods could be sold, it is clear that the shape applicant has chosen is essentially utilitarian in nature and is relatively inexpensive (less than one cent per package). In short, applicant's container looks the way it does because of its utilitarian aspects. It is clearly one of the superior shapes for packaging small items such as applicant's ear plugs. We do not believe the law requires us to find that applicant's package is the one superior container and, therefore, to allow its free use by all while permitting all other package configurations to be registered as trademarks. It is sufficient, we believe, that registration of this configuration will hinder competition. As the Court above has observed in another case where an applicant sought to register a container for its goods:
   Appellant's asserted intention to adopt the package design to indicate source may well be true, but intent or lack of intent at the time of adoption of a particular design is not controlling. Nor is proof that a particular container actually functions as a means of indication of source to some purchasers. Not all designs or words which in fact indicate or come to indicate source will be restricted in use to a single merchant... We recognize "that there is an overriding public policy of preventing monopolization, of preserving the public right to copy"... It is from this premise that we start and against which the protection of trademarks, the carving of an exception to the rule, must be balanced. Trademarks are useful tools of a competitive society, providing consumers with the means for choosing from among different producers. The tenet which precludes recognition of functional designs as trademarks is one of the balance points. Our society is better served if functional containers (as well as functional product designs and highly descriptive or generic terms --) remain available for use among competitors. To the extent this causes a modicum of confusion of the public, it will be tolerated. There is, indeed, no overriding requirement in the law that comparable goods be distinguishable in the marketplace. On the other hand, a merchant who wishes to set himself apart has no dearth of means to do so. One who chooses a commonplace design for his package, or one different from competitors only in essentially functional features, even if he is the first to do so, must expect to have to identify himself as the source of goods by his labelling or some other device. [Citations and footnotes omitted.]
In re Water Gremlin Co., 635 F.2d 841, 208 USPQ 89, 90-91 (CCPA 1980).
 Suffice it to say that we believe that the Examining Attorney has established a prima facie showing of the functionality of the shape of applicant's package, and that applicant has not rebutted the showing. This is especially so in view of the recognized difficulty placed upon this Office in meeting its burden and the limited resources of the Trademark Examining Attorney in securing technical evidence. In re Teledyne Industries, Inc., 696 F.2d 968, 217 USPQ 9, 11 (Fed. Cir. 1982).
DISTINCTIVENESS
  *6 With respect to the application that seeks registration of the package with the blue and white design, the Examining Attorney has conceded that applicant has shown public recognition of the design aspect. Accordingly, with respect to that application, registration will be allowed if applicant submits a written disclaimer of any exclusive right to use the pillow-pack package, as well as a new drawing which shows the outline of the package in dotted lines (indicating that no exclusive rights are being claimed). See TMEP Section 807.03.
 With respect to the application to register only the representation of the container, applicant argues in its brief, 14, that this shape is inherently distinctive for its ear plugs. However, applicant's initial filing of this application under the provisions of Section 2(f) is tantamount to an admission that this package lacks inherent distinctiveness. In any event, while applicant tells its customers to look for the "familiar blue and white E-A-R pillow-pak package," it is not at all clear that the asserted public recognition as a trademark of applicant's container is attributable to the shape rather than to the blue and white colors. In view of the admitted common use of this type of package in other fields and its obvious use as a means of containing relatively small products, we believe that under these circumstances more direct evidence of distinctiveness is required to show recognition as a trademark. Applicant's evidence is simply insufficient to show acquired distinctiveness. The fact that applicant is the first and only one in its specific field to use this type of packaging is not persuasive. Accordingly, assuming that the package is not de jure functional, we agree with the Examining Attorney that applicant has not satisfied the burden of showing that this package has become distinctive of its products.
 Decision: The refusal of registration in each case is affirmed, except that registration will be allowed for application Serial No. 624, 769, if applicant files within thirty days the required disclaimer and amended drawing.
J. E. Rice
R. L. Simms
E. W. Hanak,
Members, Trademark Trial and Appeal Board
FN1. Applications Serial Nos. 624, 768 and 624, 769, both filed October 9, 1986, claiming use since September 29, 1974.
FN2. Indeed, the Examining Attorney suggests that, where an applicant seeks to register a pre-existing package configuration being used for "normal" purposes, we should find such configuration presumptively de jure functional, rebuttable only by a showing that the container configuration has become obsolete or is not being used in a manner for which the container is essentially utilitarian.
FN3. When asked at the oral hearing, applicant's counsel said that he did not object to our consideration of the evidence submitted with the Examining Attorney's brief.