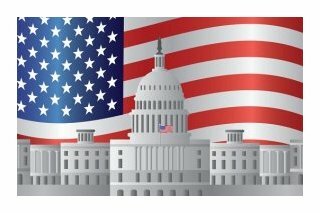 P.L. 98-620
TITLE: Trademark Clarification; State Justice Institute; Semiconductor Chip Protection; Federal Courts Improvement; Government Research and Development Patent Policy
DATE: Nov. 8, 1984  
LENGTH: 34 p.  
ENACTED-BILL: 98 H.R. 6163  
STAT: 98 Stat. 3335  
CONG-SESS: 98-2  
SUMMARY:
"To amend title 28, United States Code, with respect to the places where court shall be held in certain judicial districts, and for other purposes."
 
Title I, the Trademark Clarification Act of 1984, amends the Trademark Act (commonly known as the Lanham Act) to clarify the criteria for determining whether a trademark may be cancelled because it has become the generic name of a product.
 
Title II, the State Justice Institute Act of 1984, establishes the State Justice Institute as a private nonprofit corporation to further judicial administration improvement in State courts; and authorizes grants and contracts to State and local court systems and nonprofit organizations for court-related R&D and demonstration projects, including education and training programs for judges and court personnel.
 
Title III, the Semiconductor Chip Protection Act of 1984, amends the Copyright Act of 1976 to provide copyright protection for electronic designs embodied in computer semiconductor chips. Exempts from copyright infringement liability reverse engineering reproduction of chip products for purposes of teaching and analysis.
 
Title IV, Subtitle B, the Federal District Court Organization Act of 1983, modifies Federal district court organization and placement in six States.
 
Title IV, Subtitle C, the Technical Amendments to the Federal Courts Improvement Act of 1982, makes technical amendments to the Federal Courts Improvement Act of 1982 to clarify the jurisdiction and improve proceedings of the U.S. Court of Appeals for the Federal Circuit (CAFC), including appeals to CAFC from Patent and Trademark Office and U.S. International Trade Commission determinations.
 
Title V establishes a uniform Government policy regarding patent rights to inventions resulting from federally funded R&D, including provisions for contractor and inventor retention of rights in most cases.
State Justice Inst estab
BILLS: 96 H.R. 1007; 96 H.R. 6709; 96 S. 2387; 97 H.R. 2407; 97 H.R. 4564; 97 H.R. 7207; 97 S. 537; 97 S. 1657; 97 S. 3117; 98 H.R. 313; 98 H.R. 813; 98 H.R. 1028; 98 H.R. 1291; 98 H.R. 1579; 98 H.R. 2609; 98 H.R. 3403; 98 H.R. 3824; 98 H.R. 4145; 98 H.R. 4179; 98 H.R. 4222; 98 H.R. 4460; 98 H.R. 4662; 98 H.R. 5003; 98 H.R. 5525; 98 H.R. 5619; 98 H.R. 5777; 98 H.R. 5994; 98 S. 384; 98 S. 645; 98 S. 1201; 98 S. 1440; 98 S. 1990; 98 S. 2171; 98 H.R. 6285
REFERENCES:
 
DEBATE:
 
126 Congressional Record, 96th Congress, 2nd Session - 1980
   July 21, Senate consideration and passage of S. 2387, p. S9443-46.
 
128 Congressional Record, 97th Congress, 2nd Session - 1982
   Aug. 10, Senate consideration and passage of S. 537, p. S10109-16.
 
130 Congressional Record, 98th Congress, 2nd Session - 1984
   May 16, Senate consideration and passage of S. 1201, p. S5833-38.
   May 21, House consideration of H.R. 4145, p. H4182-89.
   May 22, House consideration and failure to pass H.R. 4145, p. H4278-79.
   June 11, House consideration and passage of H.R. 5525, passage of S. 1201, and tabling of H.R. 5525, p. H5489-97, H5524-25.
   June 21, Senate consideration and passage of S. 384, p. S8091-99.
   Aug. 6, House consideration and passage of H.R. 4222, p. H8414-15.
   Sept. 24, House consideration and passage of H.R. 6163, p. H9996-97.
   Oct. 1, House consideration and passage of H.R. 6285, p. H10532-34.
   Oct. 3, Senate consideration and passage of H.R. 6163 with amendments, p. S12909-30.
   Oct. 9, House concurrence in the Senate amendments to H.R. 6163, p. H11598-617.
 
 
REPORTS:
 
96th Congress
 
S. Rpt. 96-843 on S. 2387, "State Justice Institute Act of 1980," July 1, 1980.
   LENGTH: 35 p.
 
97th Congress
 
S. Rpt. 97-175 on S. 537, "State Justice Institute Act of 1981," July 31, 1981.
   LENGTH: 22 p.
   SUDOC: Y1.1/5:97-175
 
H. Rpt. 97-379, pt. 1 on H.R. 4564, "Uniform Federal Research and Development Utilization Act of 1981," Dec. 10, 1981.
   LENGTH: 65 p.
   SUDOC: Y1.1/8:97-379/pt.1
 
S. Rpt. 97-381 on S. 1657, "Federal Patent Policy," May 5, 1982.
   LENGTH: ii+48 p.
   SUDOC: Y1.1/5:97-381
 
98th Congress
 
H. Rpt. 98-619 on H.R. 4222, "Technical Amendments to the Federal Courts Improvement Act of 1982," Mar. 14, 1984.
   LENGTH: 12 p.
   SUDOC: Y1.1/8:98-619
 
H. Rpt. 98-685 on H.R. 4145, "State Justice Institute Act of 1983," Apr. 12, 1984.
   LENGTH: 20 p.
   SUDOC: Y1.1/8:98-685
 
S. Rpt. 98-425 on S. 1201, "Semiconductor Chip Protection Act of 1984," May 2, 1984.
   LENGTH: 36 p.
   SUDOC: Y1.1/5:98-425
 
H. Rpt. 98-781 on H.R. 5525, "Semiconductor Chip Protection Act of 1984," May 15, 1984.
   LENGTH: 41 p.
   SUDOC: Y1.1/8:98-781
 
S. Rpt. 98-480 on S. 384, "State Justice Institute Act of 1984," May 24, 1984.
   LENGTH: 23 p.
   SUDOC: Y1.1/5:98-480
 
H. Rpt. 98-983, pt. 1 on H.R. 5003, "Uniform Science and Technology Research and Development Utilization Act," Aug. 15, 1984.
   LENGTH: 54 p.
   SUDOC: Y1.1/8:98-983, pt.1
 
S. Rpt. 98-627 on S. 1990, "Trademark Clarification Act of 1984," Sept. 20, 1984.
   LENGTH: 12 p.
   SUDOC: Y1.1/5:98-627
 
H. Rpt. 98-1062 on H.R. 6163, "Federal District Court Organization Act of 1984," Sept. 24, 1984.
   LENGTH: 13 p.
   SUDOC: Y1.1/8:98-1062
 
S. Rpt. 98-662 on S. 2171, "Amending Title 35 of the U.S. Code for the Purpose of Creating a Uniform Policy and Procedure Concerning Patent Rights in Inventions Developed with Federal Assistance," Oct. 5, 1984.
   LENGTH: 19 p.
   SUDOC: Y1.1/5:98-662
 
 
HEARINGS:
 
96th Congress
 
"Copyright Protection for Imprinted Design Patterns on Semiconductor Chips," hearings before the Subcommittee on Courts, Civil Liberties and the Administration of Justice, Committee on the Judiciary. House, Apr. 16, 1979.
   LENGTH: iii+79 p.
   SUDOC: Y4.J89/1:96/16
 
"State Justice Institute Act of 1979," hearings before the Subcommittee on Jurisprudence and Governmental Relations, Committee on the Judiciary. Senate, Oct. 18, Nov. 19, 1979, Mar. 19, 1980.
   LENGTH: iv+229 p.
   SUDOC: Y4.J89/2:96-49
 
"State Justice Institute/Annual Message of Chief Justice, 1980," hearings before the Subcommittee on Courts, Civil Liberties, and the Administration of Justice, Committee on the Judiciary. House, Sept. 19, 1980.
   LENGTH: iii+276 p.
   SUDOC: Y4.J89/1:96/65
 
97th Congress
 
"Federal Courts Improvement Act of 1981: S. 21, and State Justice Institute Act of 1981: S. 537," hearings before the Subcommittee on Courts, Committee on the Judiciary. Senate, May 18, 1981.
   LENGTH: v+379 p. il.
   SUDOC: Y4.J89/2:J-97-34
 
"Federal Patent Policy, Part 1," hearings before the Subcommittee on Science, Technology, and Space, Committee on Commerce, Science, and Transportation. Senate, July 28, 1981.
   LENGTH: iii+69 p.
   SUDOC: Y4.C73/7:97-70/pt.1
 
"Federal Patent Policy, Part 2," hearings before the House Science and Technology Committee and the Senate Commerce, Science and Transportation Committee, July 23, 1981.
   LENGTH: iii+60 p.
   SUDOC: Y4.C73/7:97-70/pt.2
 
"Patent Policy," hearings before the Subcommittee on Courts, Civil Liberties, and the Administration of Justice, Committee on the Judiciary. House, Mar. 2, 1982.
   LENGTH: iii+62 p.
   SUDOC: Y4.J89/1:97/87
 
98th Congress
 
Hearings on copyright and technological change before the Subcommittee on Courts, Civil Liberties, and the Administration of Justice, House Judiciary Committee, July 20, 21, 1983. (Not available at time of publication.0
 
Hearings on H.R. 4460 before the Subcommittee on Courts, Civil Liberties, and the Administration of Justice, House Judiciary Committee, June 28, 1984.
 
Hearings on H.R. 313; H.R. 813; H.R. 1579; H.R. 2329; H.R. 3604; H.R. 4179; H.R. 4662; H.R. 5619; H.R. 5994; H.R. 3919; and H.R. 5777 before the Subcommittee on Courts, Civil Liberties and the Administration of Justice, House Judiciary Committee, Aug. 9, 1984.
 
"Court Improvements Act of 1983," hearings before the Subcommittee on Courts, Committee on the Judiciary. Senate, Mar. 11, Apr. 8, 1983.
   LENGTH: v+578 p. il.
   SUDOC: Y4.J89/2:S.hrg.98-424
 
"Semiconductor Chip Protection Act of 1983," hearings before the Subcommittee on Patents, Copyrights, and Trademarks, Committee on the Judiciary. Senate, May 19, 1983.
   LENGTH: iv+168 p. il.
   SUDOC: Y4.J89/2:S.hrg.98-493
 
"State Justice Institute Act of 1983," hearings before the Subcommittee on Courts, Civil Liberties, and the Administration of Justice, Committee on the Judiciary. House, July 13, 1983.
   LENGTH: iv+407 p. il.
   SUDOC: Y4.J89/1:98/26
 
"Copyright Protection for Semiconductor Chips," hearings before the Subcommittee on Courts, Civil Liberties, and the Administration of Justice, Committee on the Judiciary. House, Aug. 3, Dec. 1, 1983.
   LENGTH: v+494 p.
   SUDOC: Y4.J89/1:98/34
 
"Technical Amendments to the Federal Courts Improvement Act of 1982," hearings before the Subcommittee on Courts, Civil Liberties, and the Administration of Justice, Committee on the Judiciary. House, Sept. 28, 1983.
   LENGTH: iii+158 p.
   SUDOC: Y4.J89/1:98/27
 
"Trademark Clarification Act of 1983," hearings before the Subcommittee on Patents, Copyrights, and Trademarks, Committee on the Judiciary. Senate, Feb. 1, 1984.
   LENGTH: iii+140 p.
   SUDOC: Y4.J89/2:S.hrg.98-901
 
"Uniform Patent Procedures Act of 1983," hearings before the Subcommittee on Patents, Copyrights, and Trademarks, Committee on the Judiciary. Senate, Mar. 27, 1984.
   LENGTH: v+194 p.
   SUDOC: Y4.J89/2:S.hrg.98-1024
 
"H.R. 5003, the Uniform Science and Technology Research and Development Utilization Act," hearings before the Subcommittee on Science, Research, and Technology, Committee on Science, Space, and Technology. House, May 15, 16, 1984.
   LENGTH: iii+197 p.
   SUDOC: Y4.Sci2:98/86
 
 
MISCELLANEOUS PUBLICATIONS:
 
"Federal Law Enforcement Assistance: Alternative Approaches," Congressional Budget Office report, Apr. 1978.
   LENGTH: xiv+37 p. Oversized.
   SUDOC: Y10.12:L41